Yingchuang 3D printed building set off again, quarantine room rushed to Huangshi City, Hubei Province
Following Yingchuang's 3D printing of 15 isolation houses to assist the Xianning Central Hospital in Hubei Province, the truck loaded with Yingchuang's 3D printed quarantine room was launched from Yingchuang Qingpu Yannuo Factory on the 22nd and rushed to Yangxin County, Huangshi City, Hubei. This quarantine room was donated by Yingchuang Construction Technology (Shanghai) Co., Ltd., the New Zizhu Sunflower Love Fund, and the New Zizhu Closed Training Camp, Longlong Class, to relieve the pressure of quarantine work at the Maternal and Child Hospital of Yangxin County, Huangshi City.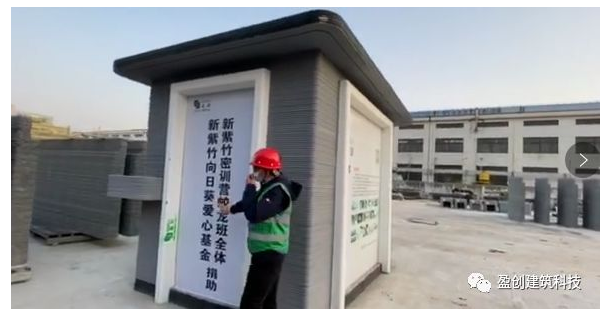 Yingchuang 3D printed quarantine room
The quarantine room is completed by Yingchuang 3D printing integrated printing. The interior is simply decorated, hoisted and placed, and connected to water and electricity. The ink is derived from renewable construction resources such as urban construction solid waste, mine solid waste, and steel plant solid waste. After high temperature, crushing, and grinding processes, and scientific ratios, the printed wall strength is 3 times that of traditional concrete walls. Times.
Yingchuang 3D printing quarantine room is being hoisted
It is worth mentioning that after the epidemic situation, the 3D printed quarantine room can be used as a guard room, newspaper kiosk, and lounge after being hoisted. It can also be recycled as raw materials for 3D printed buildings, that is, when the quarantine room is not in line with actual needs, it can be shipped back to Yingchuang, and after crushing and grinding, it becomes 3D printed building inks and printed into new Building, play a new role.
Yingchuang 3D printing quarantine room is being hoisted
Yingchuang 3D printed quarantine room in transit