Global first 3D printing bus stop appeared in Jinshan Garden, Zhangjiang
"China Hi-tech District"December, 2017
By Rong Ping
Based on development concept of "science and technology, culture, art, nature, harmony and environmental protection", Winsun recycles building waste and reuses in the construction, aiming at benefiting people with technology innovation.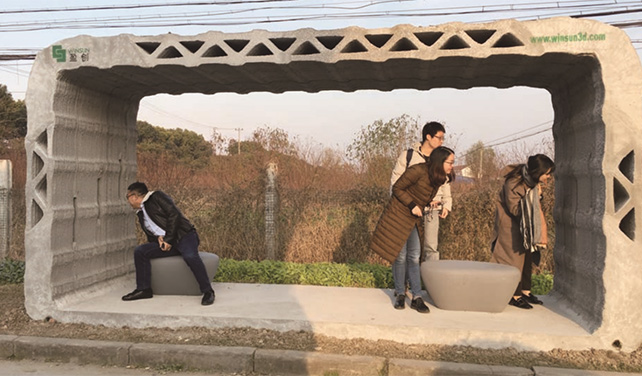 When the "toilet revolution" is carried out nationwide, "bus stop revolution" first starts in Fengjing Ancient Town, Jinshan, a famous culture town in China. Global first bus stop was was put into use in Fengjing Road Four, built by 3D printing technology, which offers by Yingchuang Building Technique ( Shanghai ) Co.,Ltd ( Winsun), a famous 3D printing architecture enterprise in the world, located in Jinshan Garden. The bus stop was printed in the industry garden and then was shipped to bus line. It can be used after place them.
3D printing achievements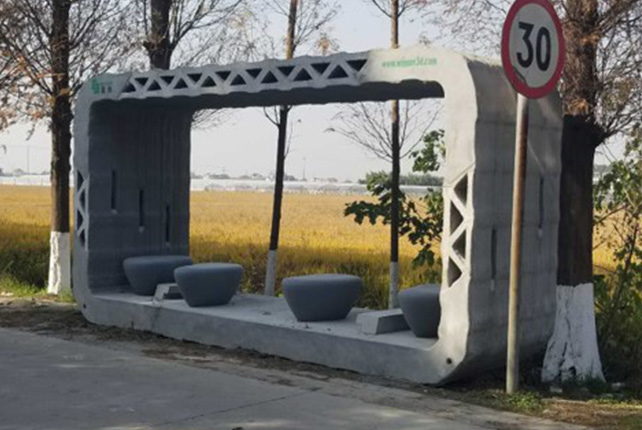 Global first 3D printing "bus stop"attracted wide attention by medias.Our correspondent first came to the site to interview Fengjing 3D printing bus stop, which has put into use.
3D printing bus stop is a close-loop design, located in country roads. On the surface of the frame, there are traces of original "inks" made by 3D printing machine ink nozzles. It is said that the gray "ink" trace is a mean to express nature by high-end luxury brands. The raw materials of gray traces comes from recycled waste materials, which is integrated with Fengjing ancient town. The passengers seem to be getting used to the 3D printing bus stop. A passenger interviewed by our reporter said she did not know it is a 3D printing bus stop and did not see the construction process. Previously, this bus stop only had a stop board.
However, the passengers did not know that this 3D printing bus stop can be built in the whole Fengjing Town within one night. Introduced by Zhang Bing,secretary of the party committee of Fengjing Town, the 3D printing bus station that has been put into use is a pilot and demonstration, which will add a small desk later.
3D printing technology builds a city
On the conference of "Zhangjiang·Yangtze River Delta science & technology city", reporter has interviewed Ma Yihe, founder of Winsun. "Zhangjiang·Yangtze River Delta science & technology city" project is a new project, which should be built by Jinshan, Jiaxing and Zhangjiang together. Fengjing Town actively promotes the application of technology of local innovative enterprise, which not only starts the projects of global first 3D printing bus stop, but carries out a series of projects that benefit people, including 3D printing road, 3D printing architecture technology experience garden and 3D printing technology town.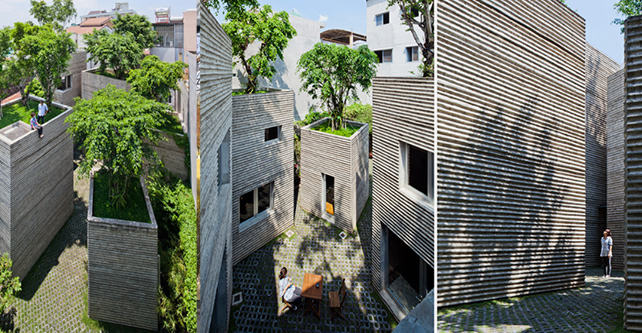 President Ma said that Winsun has designed a set 3D printing drawing for Fengjing. Except for 3D printing bus stop, there will build village service community that is just like Dubai printed office, multi-functional landscape room, 3D printing coffee shop, hotel, public toilet, bank self-service kiosk and police duty room. 3D printing technology ecological garden can achieve to plant botany in the building; In the building, the kitchen waste automatically recycles waste and forms a clean and self-circulation development. It also designs a 3D printing co-share house, which is like a cubic box, and also like a door added in the 3D printing bus stop. The bed, desk and writing desk in the house all are built together; It designs a 3D printing scenic public toilet, so long as the hoisting can complete the construction of public toilets of a scenic spot overnight, and realize the automatic recycling of faeces, without contaminating the environment; The toilets are all designed by world-renowned designers. Winsun is committed to becoming the global largest company that builds 3D printing public toilet. There also design 3D printing ecological landscape enclosing, 3D printing police and bank kiosk that protect the safety of bank cash machine. Secretary Zhang Bing said that there are 90 square meters land in Fengjing town waiting to be being built. At the same time, Winsun can recycle building waste from Fengjing to Jinshan area and turn it to 3D printing oil to build beautiful countryside.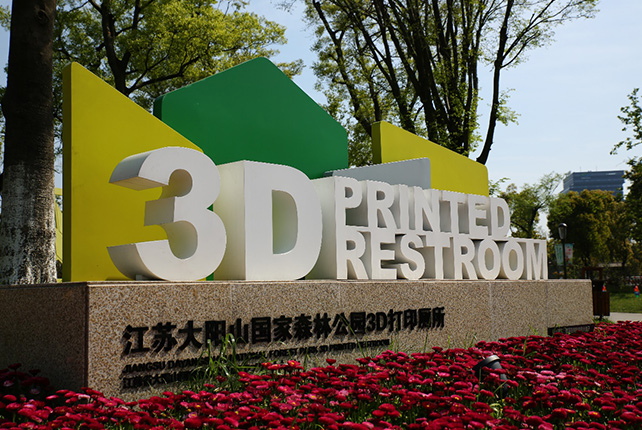 "Zhangjiang·Yangtze River Delta science & technology city" project aims to build an international first-class city integrated with Shanghai&Hangzhou, innovation &entrepreneurship, livable city and intelligent zoology, based on its geographical advantage. Technology city combines life, production and ecology perfectly, changing the construction mode of traditional industries and cities. With the concept of people-oriented, we are committed to achieve perfect integration between industry, culture and art. President Ma said that Winsun aims to benefit people with technology innovation and is committed to achieve this mission.